Crysta and Donna
This is the story of a pair of college roommates, different as night and day.

At almost nineteen, Crysta has developed beautifully, with full feminine curvature. Her hair is strawberry-blonde, her eyes are a striking green. She has a gorgeous golden bronze tan, completely free from tan lines, from years of sunbathing in her back yard, much to the fascination of the neighborhood boys, whom she pretended not to notice as they snuck peeks at her from her neighbors' back yards. Crysta has a playful streak, and nudity has always been a big part of that, but there's more to it: She's a bit of an exhibitionist, but she's careful not to get caught (though not always successful in that regard). She understands the human mind to a depth that belies her youth, using others' hang-ups against them, delighting in the looks of surprise and embarrassment that flicker across the faces of the people who see her "accidental" exposures. Although she seems free with her body, she's a little self-conscious of her huge boobs, a fact she keeps secret, even from her closest friends.

Donna is about six inches taller than Crysta, with long brown hair, and bright blue eyes. She's very thin, which makes her medium-sized breasts look bigger than they really are. She was always a sharp dresser from the time she was a little girl. Everything fits, matches, and accessorizes perfectly, and now that she's eighteen, her model's body is the perfect venue for her to show off her fashion sense.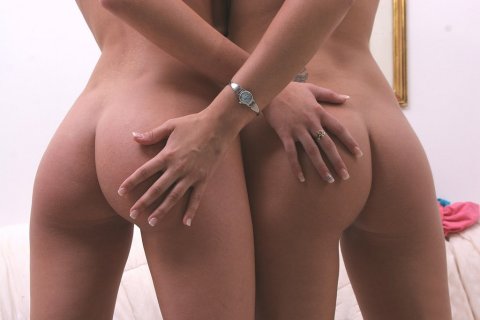 The girls hit it off from the day they met, having been assigned to the same dorm room. Crysta admired Donna's stunning beauty, and Donna admired Crysta's carefree attitude toward nudity, although the thought of letting anyone see her own intimate areas fills Donna with a strange combination of dread and tingly excitement. Donna wants to be seduced by those tingles of exhibitionism, and Crysta very much wants to help her show herself publicly, but Donna's shy nature is a strong impediment to expressing her budding urges. Still, the girls enjoy the natural intimacy of physical contact, always putting their arms around each other, hugging and carressing each other, even in public settings. From that moment when they met, the girls knew in their hearts that this year would be fun, as these stories will attest.

What the girls couldn't know, even in their wildest imagination, was the strikingly bizarre Dress Code at the College. The Dean's crazy idea is that wearing short dresses is enabled by panties -- girls don't mind wearing short dresses as long as they can rely on their panties to cover them. So the Dress Code outlaws panties in hopes of forcing girls to wear longer dresses. To make sure girls go commando, public inspections are held, but the inspections end up humiliating the very girls who try hardest to follow the rules.

With the backdrop of the girls' newfound freedom, the strange Dress Code, their natural sexual curiosity, and their budding exhibitionist tendencies the stage is set for a challenging and exciting year on their own at the College.

[b]        []    []    []    []   TABLE OF CONTENTS   []    []    []    [][/b]

Donna and Crysta's First Day was full of surprises. The last thing they expected was to be naked in each others' arms by nightfall.

The Murphy Ranch is where wet dreams come true, at least for the horny old men who buy "servants". In this multi-part story, Donna wants to earn some extra money during the winter break, but maybe this time she bit off more than she can chew.

Muff Day is coming soon -- a special day when girls parade their muffs about campus, using them in accordance with the Dress Code, in place of a bottom.

[b]Brand New! REUNION: Donna and Crysta reunite after a long summer apart.[/b] The beginning of their second year at the College starts with a BANG, so to speak, as Donna describes her summer vacation!

[b]New! Very short story, very amazing! GIRL STRIPPED BY TREE![/b]

Donna is worried about a Mass Inspection in which girls wearing only t-shirts are required to hang on monkey bars until they drop -- and then it starts getting unpleasant for them.

True story: Tourists

Pictorial: Sorry, Black Pants Aren't Allowed will be especially interesting if you enjoy bottomless girls -- especially, girls who are forced to go bottomless, even though they would rather keep themselves covered up.

It's a dreary Saturday, so what should the girls do? Get half-naked and have a day out, that's what! But it's the last thing Donna wants to do. With the Dress Code Inspectors gone for the weekend, she was looking forward to snuggling into some clothes, and enjoy the day without worrying who's looking between her legs. Unfortunately, Crysta has other ideas, and somehow she seems to always get her way.

Donna recounts the story of two poor girls who were punished in math class first for not knowing the sine and cosine rules, and then for stripping each other two slowly. The sadest part of their ordeal is that the teacher made them bring each other to orgasm, in violation of the Code of Conduct which forbids public displays of sexual excitement, so they were punished yet again after class. And the punishment for public wetness is rape, which is fitting because girls who appear this way in public are "asking for it".

Sometimes, girls just want to tell their story, and we're here to help. This adorable, shy girl tells her story of a group job interview for girls in which they were asked to show how badly they wanted the job. For some girls, the process was stressful and even humiliating, but for others, it turned out to be a rewarding experience.

Bottomless Dare -- Donna is pretty sure Crysta won't go through with her end of the bargain, which is good news for Donna, because that way, she won't have to go bottomless in public. Or will she?

Crysta interviews a girl waiting on the steps for her class to begin, to understand how students feel about the dress code. Do girls miss wearing panties? Or are they used to going commando?

Strip to Enter -- a club that requires its patrons play a stripping game as a condition of entry!

Gym Class -- this time it was not just "shirts" against the "skins" -- there was a third group today!

Punishment -- poor Carol, the girls' friend was hog-tied naked in public to punish her for being indecent. The girls soothe her and help her pass the time.

Indecency Hearing -- Donna scoffs at a new memo from the Dean, explaining the need for decency.

Topless? or Bottomless? -- poor Ellen needs to pick one, but unfortunately, she picks wrong.

Dinner Party -- Donna tells the story of the Dean's submissive wife

Ocean Bottom -- Cute blonde Nancy tells Donna the story of a trip to the beach that ended in complete nudity, and a stupid dare.

Bus Station -- what a find! A girl sitting at the bus station, waiting not for a bus, but to be asked to strip. She takes everything off, but one thing, and then she's got me just where she wants me!

Mean Teacher -- a letter to the dean, written by a female student who felt she had been abused by a teacher who was only enforcing the Dress Code. Quite a few very interesting responses to this article.

Hurricane Relief -- an interesting way to run a clothing drive!

The Waterfall is where the girls go to have fun -- frolicking in the water, and stripping each others' tops off. The fun turns mean, however, when the bottoms start coming off. Then Crysta is extra mean to Donna, forcing her to teeter on the edge of orgasm until she finishes telling the story.

Nature Walk is where April and June go as nature intended, sharing some tender moments together.

The Outdoor Shower is a very popular way for girls to cool off when they start getting a bit hot.

-----

email: dickhurt69@hotmail.com